PC Tan Introduces Wellness Cocoon Pro System
October 27th, 2016
PC Tan, the industry leader in high-end tanning equipment is now a distributor of the Cocoon Wellness Pro exercise fitness system from Wellness USA.
With the automated Cocoon Wellness Pro, you can create original wellness protocols that will attract clients seeking to improve their personal wellness, improve their energy level, reduce stress, improve fitness, deep cleanse and achieve their ideal fitness goals.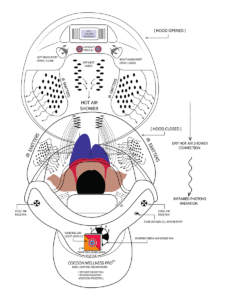 The integration of Cocoon Wellness Pro in your business is very simple, no matter what your business configuration. The fully automated system offers the advantages of small floor space, providing intimacy and privacy. It does not require any particular installation, plumbing, or specific configuration – just a simple electrical outlet and you can immediately offer a wide range of automated wellness services.
Offering your clients luxurious private wellness has never been easier. Users simply recline on the comfortable ergonomic bed, select the session time, adjust the heat level, vibration and face air intensity, relax and enjoy physical fitness and wellness sessions from 20 to 30 minutes.
The Wellness market amounts to $3.4 trillion and will skyrocket in the next ten years. In the United States alone, there are 40 million core health and wellness consumers and there is a huge, untapped and unfulfilled market of 260 million periphery to mid-level persons who are unfit, exercise-challenged, overweight, stressed-out and/or unhappy consumers who deeply desire wellness.
The Cocoon Wellness Pro enables indoor tanning businesses to offer one-of-a-kind fitness and wellness services; an amazing opportunity that will quickly expand the traditional services offered.
For more information, call PC Tan at 800-FAST-TAN.