Feb
9
Sat
2019
2019 PC Tan Expo @ Hilton Hasbrouck Heights
Feb 9 @ 8:00 am – 6:30 pm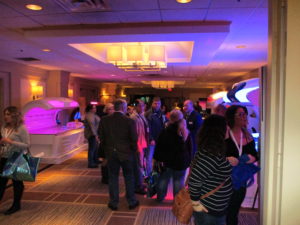 Get a jump start on a successful 2019 at the PC Tan Expo, February 9th & 10th, 2019 at the Hasbrouck Heights Hilton, NJ less than 30 minutes from Manhattan!
Saturday, February 9th will feature the latest tanning and wellness equipment, brand new lotions, expert speakers, sunless certification, and much more for $39.95 per admission with Early Bird Admission until January 25th, 2019! Special Hotel rooms rates at the conference location are available at just $109.00 per night.
Attendees will benefit from special show pricing on the latest equipment from KBL, Sportarredo, the Cocoon Wellness Pro, and lamps and lotions from numerous industry-leading brands.
Keynote speakers including Dennis Ligon from Sundays Sun Spa Shop, Industry Panel featuring participants from various facets of the industry, product presentations from the industry greats and much more will also be included.
Featured exhibitors will include, the American Suntanning Association, Australian Gold, California Tan, Contour Light, Designer Skin, Devoted Creations, Ed Hardy, Eternal Sun, Fiesta Sun, KBL, MR International, Pro Tan, Sportarredo, Supre Tan, Swedish Beauty, Sun Evolutions, Sybaritic/Wellness USA, Wink Ease, Wolff Systems, Cosmedico, Heraeus, Mystic Tan, Ampheta-Trim, Norvell, Cryo Innovations, and many more!
Gourmet lunch is included with attendance. Prize giveaways, gift bags, and much more! Don't miss out and register now!
Sunless Sunday February 10th!
We have something for everyone on Sunless Sunday! Leave no stone unturned- boost your sunless profits by getting yourself and your staff sunless certified. Between Norvell University and California Tan Sunless we've got you covered no matter what skill level you are working at, so be sure to sign up for your classes NOW as space is limited!
TO BOOK HOTEL AT DISCOUNTED RATE OF $109 PER NIGHT, PLEASE USE GROUP CODE "PCTAN". THIS BLOCK WILL BE AVAILABLE UNTIL JANUARY 8, 2019.





Feb
10
Sun
2019
Sunless Sunday – Sunless Professional Certification Classes @ Hilton Hasbrouck Heights
Feb 10 @ 9:00 am – 5:00 pm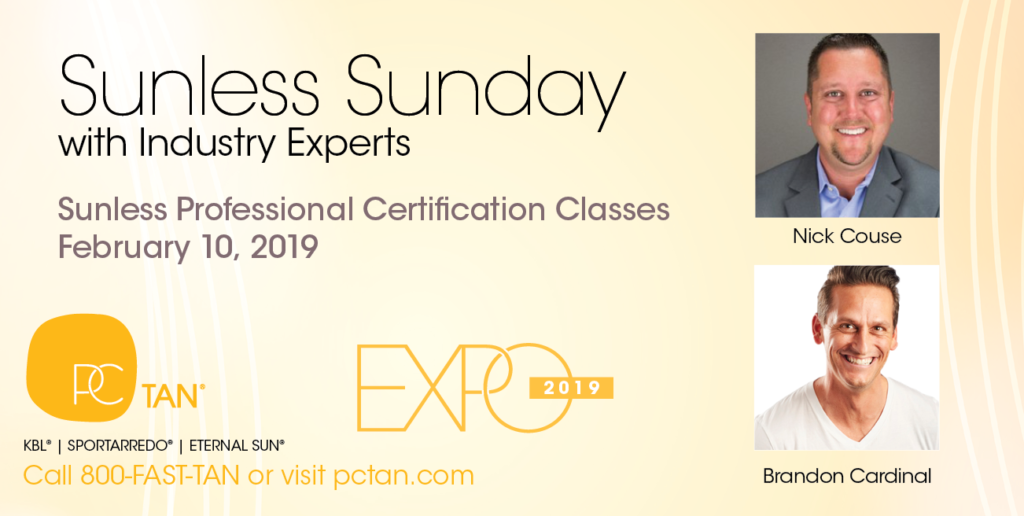 Sunless Sunday – Sunless Professional Certification Classes
Brandon Cardinal is a 25 year industry veteran that has worked in all aspects of the tanning industry – salon owner, distribution, manufacturing, and now sunless spray tanning. Brandon has been with Norvell for 10 years helping pave the way for technicians successes through Norvell University's acclaimed certification and training programs.
Nick Couse is the Regional Sales Manager for the east coast. He works on all aspects of the business from sales training, salon support, sunless training, and lotion training. Nick has been with Australian for 11 years and has been an outside Regional Sales Managers for the past 6 years. He is well versed in helping salons grow business and increasing the bottom line. When Nick is not traveling for work he loves to spend time with his family and enjoying all kinds of outdoor activities.
9am – 5pm Norvell University CORE Classroom Training: Classes 101, 102 & 103
In this session, you will explore the Fundamentals of Sunless Science, How to Spray the Norvell Way, and the Sunless Colorology as it applies to Client Classification. This beginning level course is your first step at mastering the craft of spray-tanning and building a successful sunless business.
9am – 5pm Norvell University CORE Skills Training
This is your gun in hand, hands-on opportunity for training. For those who are new to sunless and have been spraying 1-Year or Less, this is your chance to train side-by-side with a Norvell University Educator. In this hands-on course, your Nu Educator will evaluate your personal application methods, and offer valuable tips to speed session times, all while building your application confidence and preparing for your future in sunless. A trainee provided spray model is required for this session. All equipment and supplies will be provided onsite.
Norvell University MASTER Evaluation by Appointment
In this hands-on course, you will work side by side with an NU Educator to evaluate your client consultation, personal application methods, and skills at closing the session. During this class, the NU Educator will offer valuable tips and tricks to decrease session times, while incorporating up-sell opportunities and home care suggestions that combine to provide the client with a premium experience. REQUIREMENTS: This course is available to technicians who have been spraying professional at least one full year and have previously completed the Nu 100: Fundamentals of Sunless Course. To receive a Master Certification certificate, the technician must also complete Nu 201 & 202 online, after attending the L!VE Evaluation Session. A technician provided spray model is required for this session. All equipment and supplies will be provided onsite.
Norvell University CORE Training Package – $50.00 Savings
This package includes both the CORE Classroom Training & the CORE Skills Training.
Norvell University MASTER Live Event Package – $50.00 Savings
This package includes both the CORE Classroom Training Session and the Master Evaluation Appointment.
10am- 1pm California Tan Sunless Profession Certification
LEARN & EARN. Get your registration fee back in credit on your PC Tan Account with the California Tan Professional Sunless Certification Course. Expert Level Course that covers the science behind sunless tanning, retail product sales tips, technicalities of spray tanning, an open spray session and much more!