A Little Something Extra
February 14th, 2019
KBL 7000 Alpha extraSun from PC Tan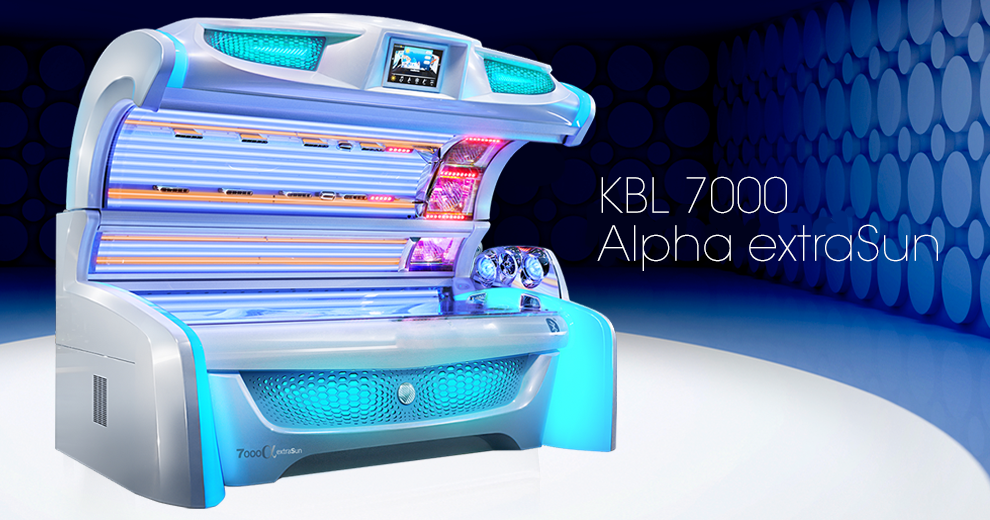 Even the best things in life can use an update from time to time. With the same frame as the renowned KBL 7900 and 6800, a redesigned exterior and enhanced features, the KBL 7000 Alpha extraSun is a new take on classic performance that presents itself as a whole new experience.
Something Different
Everybody already knows what to expect from KBL units in regards to performance and comfort, but the 7000 Alpha really makes its mark with a refaced exterior that strikes customers as something completely different. Its LED light panels increase output for an even more remarkable first impression. But, even on the exterior, the updates aren't just for show. Tanning experience options are now selected on a dramatic 13-inch touchscreen – the first of its kind in the industry.
See to Believe
Fifty-two total lamps with 10,980 total wattage provide top-of-the-line tanning power. The p2 pigment lamps and CPI, for equal output for the life of the lamp, ensure consistent, extraordinary results for the consumer and heightened efficiency for the operator. But, the little something extra in this new unit is enhanced illumination for the upper body and face area, yet another first for the industry.
Choose Luxury
A completely customizable experience is the key to ultimate comfort with the 7000 Alpha. AAA comfort – aquaCool, aroma and airConditioning – is refreshing as ever and selected simply on the visually appealing touchscreen before the session. megaVoice guides guests conveniently through the session, without too much interruption of their tunes, played conveniently from the unit or from the user's phone, connected seamlessly via Bluetooth.
All in all, the KBL 7000 Alpha extraSun provides a stunning new addition to the world's most impressive line of tanning beds, with the tanning prowess and comfort you'd expect, and a little something extra that makes a big difference.
For more information, contact PC Tan at 800-FAST-TAN or PCtan.com